From Our Guests at Adelaide Hostel San Francisco
?Excellent Hostel. I will be back again. Very helpful staff. Thanks guys.?

?Great hostel. Very helpful staff.?

?Great staff, great nights out, awesome breakfast - just what was needed to sort out the hangover.?

?I really enjoyed my stay here. Staff were very helpful and location was great. I would definitely return.?

?This place was brilliant and I only wish I could have stayed longer. The hostel had something organised every night whether it be a movie night or a bar crawl! The breakfast was amazing in the morning. The kitchen was huge and great for drinks before a night out. Excellent, clean and central hostel. Highly recommend it.?

?This is probably one of the best run hostel's I've stayed in. I can't think of a bad thing to say about it.?

?Clean, low-stress, very easy check-in and check-out. Stayed in a four-bed room in which we each had our own little wall cubby, with a spacious locker beneath the beds (easy to shove a suitcase into), and curtains that completely block out light from outside. The result is a very comfortable feeling of personal space, which I very much appreciate. They're big enough for even me to stretch out, and I'm relatively tall, so that's a definite plus. Bathrooms were clean, lots of events. Recommended.?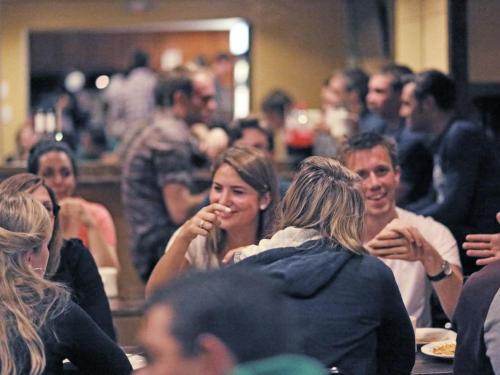 ?Had a fantastic time!! Not only was the atmosphere great, but meeting new people in the common room and kitchen area was the highlight. Also the interaction events (pub crawl, cheese and wine etc.) makes it much easier to meet people. Thank you for a great stay. Will definitely recommend you and come again when I visit the State again.?

?Clean, comfortable hostel with curtains on the bunks for privacy and free breakfast every morning. Super friendly staff–especially Kev, Beth and Nicole at reception, Emma who does housekeeping, and Tori at the free dinners! Make sure to go on the Wednesday Pub Crawl with Kev.?

?Location, cleanliness, fast internet, free breakfast, friendly staff and good atmosphere amongst guests and staff. Love the place.?

?From the moment that I arrived all the staff were amazing. The luggage lady Sarah was so helpful and gracious. All the receptionist really went out of their way to help always taking the initiative especially Nicole! Beth looked after me when I face planted off my bike and that girl Suprita deserves a promotion! The Hostel does a free breakfast which is great! Alese makes killer oatmeal, best in san francisco! Tory does free chili on mondays and pasta on weds. Make sure you ask for Kevin when you come to the hostel he will show you the best spots to party in town! He leads the pub crawl on wednesdays. I have to say it was the best night of my life!!!! The house keepers are amazing Emma, Hannah have the place spotless,especially Declan he never stops working. Thursday nights are a great time at the hostel. Free wine and cheese for everyone and music from DJ Will Hester. The hostel is the best I've ever been to. Definitely recommend it!! The only thing I disliked was that I couldn't stay longer. Fantastic place!!! Just too good!!!?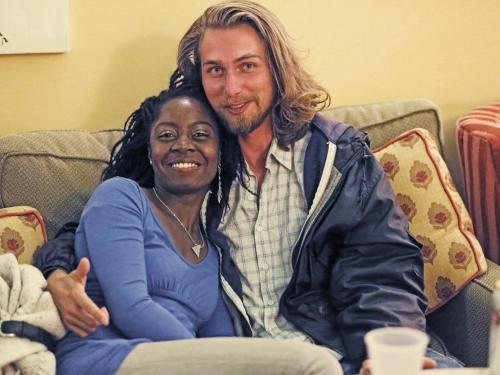 ?I'd recommend this hostel over most I have been to in all my travels!?

?It has an awesome location, located near Union Square. Staff was friendly and helped us with the reservations for a tour to Wine Country.?

?Really friendly atmosphere, great staff, clean and comfortable rooms, great services. We got great advice about where to go and what to do in the area. I would really recommend the Adelaide to anyone coming to San Francisco.?

?Good place to stay. We stayed in a private room that we had reserved for 2 people but at the last minute a third person came along and it was no problem, although by then they were fully booked. They just charged an extra $20 per night for the third person which I thought was reasonable. As there was a twin bed and a full size bed there was enough space for our group of three. Private bathroom was nice too. Their private rooms are in another building around the corner. In both buildings, the one with the dorms as well as the one with the dormitories, there was free internet, kitchen, and breakfast is included. Definitely a good place to stay.?

?Of the few I've stayed in this has been the best. The bed is comfortable, and the bed space has a light and power socket which are both highly useful. A curtain offers a good degree of privacy. There is a sizeable locker at the base of the lower bunk which gives you ample space (lockerless hostels please take note). The provision of several internet terminals/PCs has meant I've been able to go through my photos and e-mail people back at home. A good location close to several places of interest. I would recommend this to anybody. Some reviews I read of hostels in this area mentioned the homeless hanging around the hostel: they are in the area but not directly outside it. If you are worried about them don't be; be polite and move on quickly - nobody will chase you down the street.?

?Great staff, very helpful. Love the extra space to store my bicycle—very important in my case, since I'm biking to NY and need safe/secure storage. Also, nice filling breakfast and even dinners across the street. How cool is that? Thanks so much.?

?Great events (free food). Perfect location. Great staff.?

?Great hostel, good quiet hang out areas but more importantly great social area's. played games each night with the staff and other guests. Went on the pub crawl, chilli and pasta meals were really decent. Rooms were clean enough along with kitchens and toilets and everyone was made to feel welcome.?

?We stayed at this hostel for 2 nights in a private room which provided all the amenities of a hotel. In addition, the lounge area was really nice with beautiful couches. There is a very international vibe with guests from all different countries staying there. They provide many free services including breakfast, game nights, guided tours, and other social outings. The hotel offers a discount on parking which is really cheap for San Francisco. Stay here!?

?I've stayed here twice and stayed at their sister hotel as well. The owner accomodated me twice as well as my friend during our second visit. We were so happy because our original hostel had lost the reservation! Great price, great location, close to Union Square, the staff were friendly, they have games nights, tons of information on tours, a bus shuttle service to the airport which was hugely convenient and not out of a backpackers budget. Their breakfasts and dinners were cheap and yummy! Also, great living room with computers and couches to lounge and the atmosphere is great!?

?I have traveled around the world staying in hostels, and I would have to say that this one was the best so far. The hostel really encourages respect and silence after 10 pm, which is a new concept for most noisy hostels. The rooms had cubbyhole like bunk beds with drapes for privacy. There was a sink and large storage spaces in the 6-women dorms. The breakfast was an abundant buffet, like I have never experienced before in a hostel. The buffet was complete with your choice of bread/bagels with cream cheese and a variety of jams, coffee, and fruit. They also had discounted parking at a nearby parkade. What more could you ask for in a hostel??
?I have stayed in hostels all over the world and the Adelaide is the best! The hostel itself is very nicely furnished and decorated and the beds are built in wooden bunks so you have your own private space unlike the squeaky metal beds in most hostels. The staff are brilliant across the board, very helpful and friendly. The hostel offers different events on different nights of the week, when we were there we had free wine and cheese, a movie night and a pub crawl. All in all I would highly recommend this hostel to anyone and it is only a few blocks from union square!?

?I'm a frequent traveller to San Francisco for conference and seminars and by luck I found this cute European style hostel near Union Square. I like staying in hostels even if I have the budget because there you meet travellers from worldwide that share their exciting travels. The staff there was really nice and accomodating to my needs.They also have a great breakfast with assorted fruit, many types of bread, and an incredible jams selection. The best part is meeting new international friends.Its a great social atmosphere and one that can't be offered by a Holiday Inn or a Hilton.?

?I'm an older woman (41) who was down in California for work. I decided to stay in the city for a week and couldn't afford to pay a lot of money so I booked a bed in a 4-person dorm at the Adelaide Hostel. I'm so glad I did! The staff were so friendly, the hostel had lots of events to get people to meet and join the fun, the bathrooms and rooms were clean, and it was in a great location at a great price. What more can you ask for? As an 'older' traveler (I like to party occasionally but not be surrounded by drunken 20 year olds), this place was perfect. You have the option to have a quiet night in if you want, or go and join the pub crawls or movie nights if that's what you're in to. I recommend this place, and you can't beat the location! Anywhere in the city, just say "Union Square" and you can find your way back home. Thanks for the great time, Adelaide!?

?I went on 2 roadtrips with friends and stayed at this hostel both times. It's moderate and run by expats from all around the globe which is useful so they can talk to the backpackers from all over. I really loved the cozy feel, especially in the common room, i had so many great conversations with other travellers. Also the location of this place is prime! Right by Union Square and just walking distance to the cable car stop or pretty much anything in downtown. If you're on a budget, and like to meet people from around the world- STAY HERE!?

?I stayed here. I enjoyed it a ton. Met travelers from Portugal, Hungry, Italy, Denmark, Ireland. Paraguay, and Germany. There was plenty of showers and bathrooms to go around on each level. The kitchen setup is amazing. The alley way to smoke is pretty awesome. The location is seconds from Union Square. I love the breakfast in the morning and the irish breakfast girl. If you're a fatty like myself, youll get the exercise if you stay on the 3rd or 4th floor. I recommend staying here.?

?If you are going to San Francisco, you have to stay at this place. The staff is friendly and very helpful. They have a large storage room where you can keep your large items like bikes and luggage. Every night the hostel pairs up with a near by hotel to entertain both of its guesses with activities. Mondays chilly night was one of my favorites. The place is kept very clean and the rooms are price fairly. If you stay here you will find lots of places to check out and enjoy. Highly recommend this place and will be staying here again in the future.?

?I was booked there in early May 2012 and  extended my stay. Not only did I love San Fran - I really liked this hostel and felt at home within a couple of days. The rooms & beds are comfortable and the breakfast provided is outstanding! Delicious healthy oatmeal/porridge with fruit in it as well as fresh fruit, bagels, English muffins, toast with all the spreads. They have planned activities like a walking tour. This was a great first thing to do in SF as you saw some pretty cool sites, and got some great info as well by the walking tour guide.?

?Its my third time at the Adelaide Hostel and I will definitely go back. The staff are friendly and I have met some really awesome people from all over the world. William who works there does a really good job with the pub crawl. He took us to really great spots in Downtown San Francisco and everyone seemed to have had a good time. I also appreciate that he didn't leave anybody behind. I highly recommend the Adelaide hostel to travellers looking for a good time in San Francisco!?